How is Aerial Photography used in Minnesota?
Color Infrared Photo Examples
---
Agriculture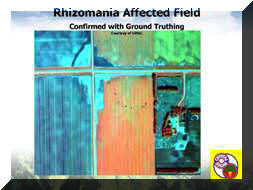 Rhizomania detection in sugar beets
Photo courtesy of American Crystal
Sugar Company. Click on the image
to enlarge.
Color infrared photography (CIR) is used in crop studies to determine plant health by the amount of fluorescence of near infrared light (NIR). Near infrared light is invisible to the human eye and can only be captured on special film or through the use of special filters. When crops are healthy and are actively producing chlorophyll, they are strong reflectors of almost all NIR light. Areas of dead or stressed vegetation appear in lighter shades of red and pink, tan, or various shades of green on CIR photos. Areas of unhealthy sugar beets appear green in the CIR image to the left. For more information about sugar beet production and Rhizomania visit the American Crystal Sugar Company website.

---
Wetland Mapping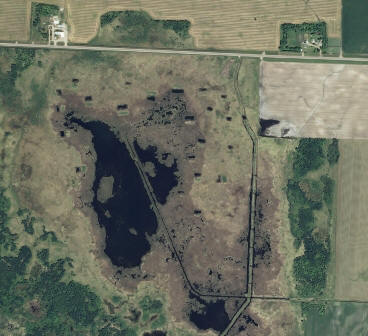 Wetlands in Mahnomen County
2008 NAIP Aerial Photography.
Mouse-over the image to view color-infrared.
Beginning in 1977, the U.S. Fish and Wildlife Service (USFWS) began inventorying wetlands nationwide. The National Wetlands Inventory (NWI) used aerial photography to map wetlands. In Minnesota, the USFWS mapped most wetlands using aerial photography taken in the early 1980s; however, only black and white aerial photography from the 1970s was available for large areas in northwestern and northeastern Minnesota. Since then, remote sensing technologies have greatly improved and expanded, and efforts are underway to update NWI maps using high resolution (1:40,000 to 1:10,000 scale) CIR aerial photography. The following report produced by the Minnesota Pollution Control Agency in 2006 for the Minnesota Comprehensive Wetland Assessment, Monitoring and Mapping Strategy Committee provides more information on wetland mapping using CIR imagery in Minnesota: A Comprehensive Wetland Assessment, Monitoring, and Mapping Strategy for Minnesota p.18 ( PDF, 3 MB). Also see the NWI Update project.
---
Wildlife Habitat Assessments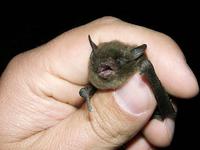 Federally endangered bat species: Indiana Bat
(Myotis sodalis)
Wildlife Biologists use CIR imagery to identify, map and assess critical habitat for threatened and endangered species. The imagery is instrumental in determining the cover type diversity for food, shelter, nesting, and breeding areas necessary for species survival. The Searsburg Wind Tower Expansion Project Bat Habitat Assessment and Mapping (PDF, 2.7 MB) report completed by Arrowwood Environmental for Deerfield Wind LLC used CIR imagery as one tool to assess and map bat habitat for two species: one federally endangered species and one state endangered species.
Return to MnGeo's first-stop Aerial Photography page.