LiDAR Forum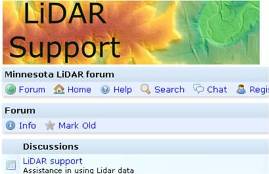 An
online discussion forum
has been created to provide technical support for Minnesota LiDAR elevation data users.
The purpose of the forum is to help LiDAR data users solve technical problems to expand the effective and accurate use of Minnesota's LiDAR data. Users can learn from others facing similar challenges by posting questions and sharing their own experiences applying the data.
The focus is on natural resources conservation and management, though other LiDAR applications may be addressed. Posts may relate to a particular software platform (e.g. ArcGIS, AutoCAD, and others), but this is not a software support forum, per se.
A help file provides guidance in using the forum.
The forum is searchable. As questions and answers build up, users can search previous discussions for answers to their questions. So if you post a question, make the subject line precise and concise to facilitate searching.
Files can be attached to messages so you can attach screen shots if needed to explain your issue.
---
Funding and support
This forum was originally created as part of the "Conservation Applications of LiDAR Training Program" coordinated by the University of Minnesota Water Resources Center and funded by the Environment and Natural Resources Trust Fund. For more information about the program and partners, click here. For more information about Minnesota's LiDAR data, click here.
The forum is hosted by MnGeo with expert participation by members of the LiDAR Research and Education Subcommittee of the Minnesota Digital Elevation Committee and others.
If you have questions, contact the current forum moderator: Nancy Rader, MnGeo, nancy.rader@state.mn.us, 651-201-2489.

---
Return to Minnesota LiDAR info webpage