Minnesota Land Cover 1991-92: Map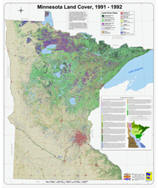 This printed poster-size map depicts classes of vegetative land cover as derived from 1991-92 satellite imagery. See below for ordering information.
The map was created by the Resource Assessment Unit of the Minnesota Department of Natural Resources and is a derivative product of the federal Gap Analysis Program (GAP), a nationwide effort to prioritize and focus conservation work. The GAP vegetation project is the first to use satellite images to map Minnesota vegetation community types at the 1-acre level of detail while employing a uniform statewide analysis protocol and vegetation typology. The map also describes and shows the boundaries of Ecological Classification System sections.
Land cover classes
The detailed computer database* on which the map is based contains 49 classes of vegetation in mapping units as small as 1 acre. For display at the map scale (1:563,200), the classes have been condensed to 11, and the smallest vegetation unit shown is about 5 acres. The state's total area is about 54 million acres.
Upland Conifer Forest: Chiefly pine dominated, some upland spruce and balsam fir, often in mixture with hardwoods (1,792,203 acres)
Upland Deciduous Forest: Mainly aspen/birch, maple/basswood and oaks (9,503,784 acres)
Lowland Conifer Forest: Mostly tamarack, black spruce and white-cedar, sometimes in mixture with hardwoods (2,852,801 acres)
Lowland Deciduous Forest: Mainly ash, elm, cottonwood and silver maple (691,383 acres)
Shrub: Low-growing woody vegetation (3,908,093 acres)
Developed Land: Urban and built-up areas dominated by buildings, roads and other impervious surfaces (826,251 acres)
Barren Land: Sparsely vegetated, including rock outcrops and mining lands (182,818 acres)
Grassland: Non-cultivated herbaceous vegetation, including prairie (5,179,811 acres)
Cropland: Under cultivation (23,894,280 acres)
Water: Open water (3,139,900 acres)
Marsh: Wetland with minimal tree cover, often dominated by sedge or cattail (2,033,168 acres)
Specifications and ordering information
Size: 50" x 42"
Scale: 1:563,200
Price: Postage included (note: maps are shipped rolled)

Photographic paper: $25.00
Plain paper: $15.00

Method of payment: Checks should be made out to "Department of Natural Resources", or contact Resource Assessment for information about invoicing.
Contact information:
DNR Resource Assessment
483 Peterson Road
Grand Rapids, MN 55744
218-322-2502
Specify "Minnesota Land Cover Map"

*Note: The GIS data used to make the map is free online in several formats; click here and see the "GAP Land Cover" section.
Return to MnGeo's main Land Use/Cover page