2022 Governor's Certificates
Two Minnesota Governor's certificate awards for exemplary geospatial projects were presented at the MN GIS/LIS Conference in Bemidji, Minnesota, October 13, 2022.

---
COVID-19 Testing Locations and Vaccine Finder Web Mapping Applications

(left to right) Cory Richter (MN Geospatial Advisory Council Chair) presented the award to COVID testing and vaccine project team representatives Bill Mitchell and Blaine Hackett (MnGeo), Chris Brueske (MDH), and Jon Hoekenga, Tanya Mayer, Shana Neumann and Sean Murphy (Metropolitan Council)
These two websites, created rapidly by cross-agency teams during the height of the pandemic crisis, provided life-saving information about testing and vaccination locations to the general public. The sites allowed vaccine and testing providers to easily add, modify, and remove their own vaccination and testing locations from the maps using a simple form.
For the public user, the tools transparently assisted with finding conveniently located sites that met their specific needs. The applications included filters for location, dates of site operation, vaccine and testing types, availability of access accommodations, and availability of appointments. These applications allowed the Minnesota Department of Health (MDH) to promote testing and vaccination sites that were low- or no-barrier sites to ensure that everyone had access to these life-saving resources. The sites were decommissioned June 2023.
The award was presented to:
Metropolitan Council
Minnesota Geospatial Information Office (MnGeo)
Minnesota IT Services partnering with Minnesota Department of Revenue
Minnesota IT Services Application Development
Minnesota Department of Human Services
Minnesota Department of Health
Minnesota IT Services partnering with Minnesota Department of Health
For more information, see:
---
Minnesota Natural Resource Atlas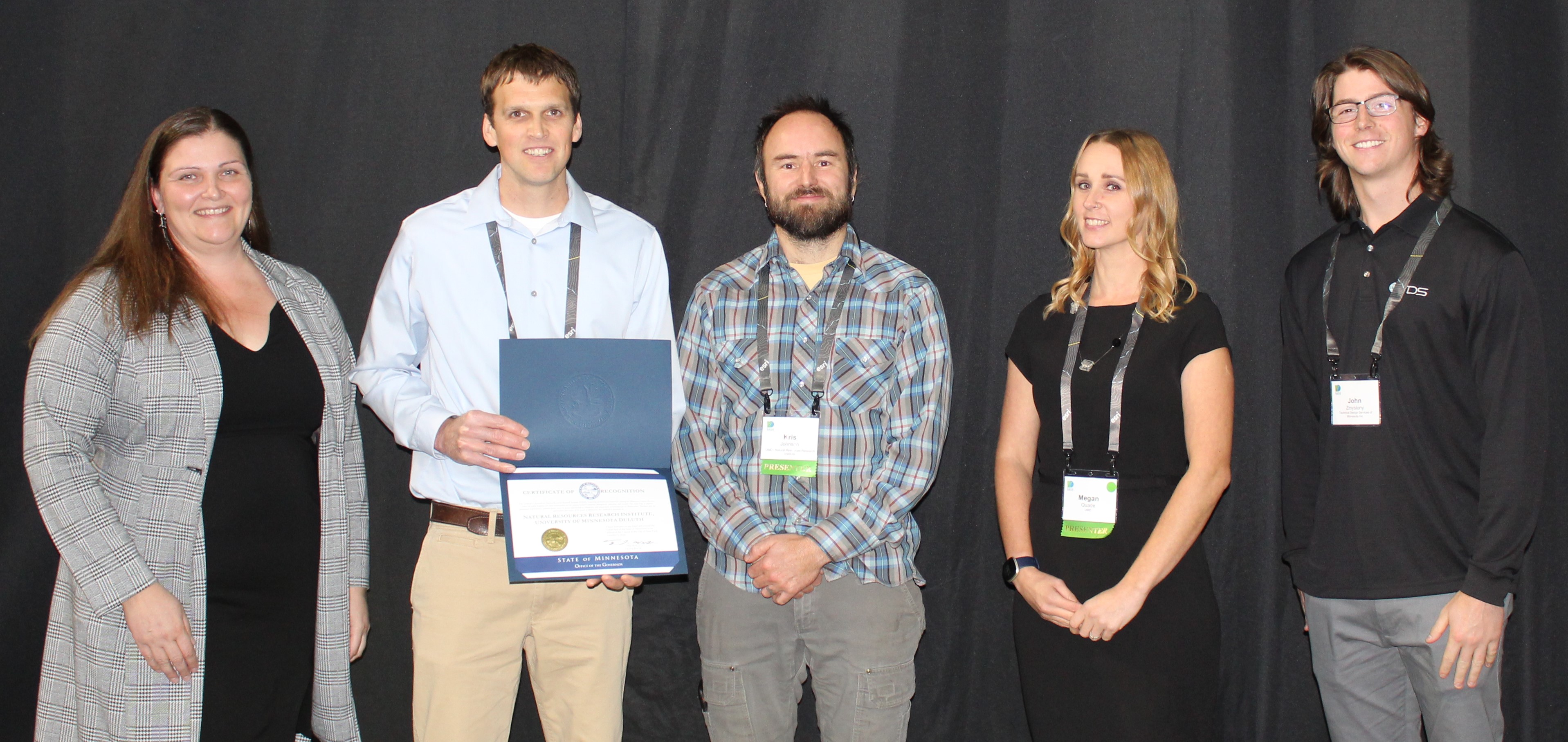 (left to right) Cory Richter (MN Geospatial Advisory Council Chair) presented the award to NRRI representatives Will Bartsch, Kris Johnson, Megan Quade and John Zmyslony
The Minnesota Natural Resource Atlas makes Minnesota's spatial data accessible to everyone, regardless of experience. This free, online interactive mapping tool is paired with more than 500 multi-disciplinary data layers covering ten categories, including water, infrastructure, environment, imagery and landcover. Users can view multiple data layers simultaneously, perform measurements, access data attributes, summarize data within a boundary unit, and print or share the maps they create.
The atlas is a collaborative project led by the Natural Resources Research Institute (NRRI) - University of Minnesota Duluth. The project was funded by a legislative appropriation, the Minnesota Environment and Natural Resources Trust Fund, the University of Minnesota and the Department of Iron Range Resources and Rehabilitation.
The award was presented to:
Natural Resources Research Institute (NRRI), University of Minnesota Duluth
For more information, see:
---