Lakes Data for Minnesota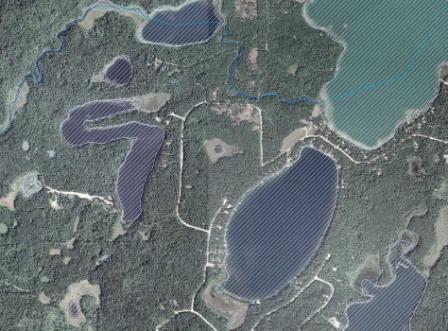 A wealth of GIS data delineates and describes Minnesota's lakes. Available data sets include the federally-sponsored National Hydrography Dataset and the Minnesota DNR Hydrography lake delineations, Public Waters Inventory delineations, and lake bathymetry. The MPCA maintains extensive lake water quality data collections. DNR's LakeFinder site links users to lakes information produced by many state agencies, including general characteristics, fisheries resources, lake levels, lake depth, water quality, water consumption advisories, and invasive species.

Categories
Hydrography/Bathymetry: GIS data and maps that include both lake boundary delineation and depth information
Quality: Data concerned primarily with lake water quality
General: Miscellaneous lake data
Hydrography/Bathymetry
Name
Source*
Geographic Area
Scale
Time Period
Data Type
Description
National Hydrography Dataset

USGS

Nationwide
1:24,000
Current
Vector GIS

The National Hydrography Dataset (NHD) is a national framework database of digital surface water features that are combined into "reaches" and a reach-addressing system that provides a way to link water-related data to the surface drainage network. These links also enable the display and analysis of water data in upstream and downstream order.

DNR

Statewide
1:24,000+
Current
Vector GIS

Extracted from Mn DNR Hydrogaphy: contains lake and open water polygons, including 2-D river features. Originally from USGS DLG 100K lakes, but with extensive editing to provide best available delineations from a number of sources. Spatially integrated with rivers layers. Attributed to meet DNR business needs. Other derived polygon layers include DNR Hydrography: Mine Pit Features and DNR Hydrography:Wetland Features.

DNR

Statewide
1:24,000+
Current
Vector GIS
The Public Waters Inventory (PWI) was a legal process initiated in the 1970s which counties used to designate lakes, wetlands, and rivers as protected, or public, according to legislative guidelines. These data were developed as an aid to making regulatory decisions regarding Public Waters Basins. There is also a file for Public Waters Watercourses.

DNR

Statewide
Various (county level)
1970s
Georeferenced PDF
Scanned, georeferenced PDF-format files of the official Public Waters Inventory (PWI) Maps, as well as official lists of PWI rivers, lakes, and wetlands, are available for download.

DNR

Selected lakes
Various
Current
Raster or Vector GIS

This file geodatabase contains the following layers: Lake Bathymetric Contours, Lake Bathymetric Digital Elevation Model (DEM), Lake Bathymetric Outline, and Lake Bathymetric Aquatic Vegetation. Bathymetry data exists for almost 1900 lakes.

NOAA
Lake Superior coastline
2011
LiDAR (several formats; see processing info)

Hydrographic and topographic data collected along the Lake Superior coast of Minnesota, Wisconsin and Michigan. Data extends offshore from the shoreline to extinction depth or 1 km, whichever is closer, and onshore from the shoreline to 30 meters. Download from DNR LiDAR ftp site is for Minnesota shoreline only.

NRRI
Lake Superior
1:547,160
1998
Raster GIS

1 km grid surface generated from depth point values.

USGS, NTDB
Lake Superior Basin and 50 km buffer
Not provided
Not provided
Raster GIS

1 km grid. Dataset buffer includes parts of Ontario, Minnesota, Wisconsin, and Michigan.

USGS

North America
1:2,000,000
Various
Vector GIS, Table, GeoTIFF
This link opens the Water category of the National Map Small-Scale Data Catalog where various generalized water data such as "Streams and Waterbodies" may be downloaded.
Quality
Name
Source*
Geographic Area
Scale
Time Period
Data Type
Description
Lake Water Quality Assessment Program

PCA

Statewide
N/A
Ongoing
Text
This webpage contains links to lake water quality information on the PCA website, including the Lake Water Quality Assessment program which assesses 3100 lakes in Minnesota and produces individual lake assessments and county-based reports that are updated annually. The reports provide lake water quality criteria and information which can be used by those involved in lake management, such as lakeshore owners and lake associations.
Environmental Data Access - Surface Water

PCA

Statewide
Various
Current
Web Application, Text-based Search
Find water quality information from Minnesota's surface water monitoring sites using MPCA's Environmental Data Access site. Where available, also view conditions of lakes and rivers that have been assessed. Available through a map-based search or a text-based search.
WHAF for Lakes Application
(Watershed Health Assessment Framework)

DNR

Statewide
Various
Current
Web Application, Spreadsheets
The interactive "WHAF for Lakes" application uses lake health scores to compare and contrast lakes found within a spatial boundary selected by the user. Lake details are available that summarize lake health metrics and basic lake morphology information.
Environmental Info Management Systems

Metropolitan Council

Twin Cities metro
Various
Current
Spreadsheet and JSON
View and download water quality data on lakes, rivers, streams and rain gauges for the region.
How's My Waterway?

EPA

Nationwide
Various
Current
Web Application
Learn the condition of local lakes, streams and other waters quickly and in plain language using a smart phone, tablet or desktop computer. See if local waterways were checked for pollution, what was found, and what is being done. Information source: State water quality monitoring reports.
General
Name
Source*
Geographic Area
Scale
Time Period
Data Type
Description
DNR Lakes Information

DNR Waters

Statewide
N/A
6/2/2000
Text
The DNR homepage on lakes, providing links to lake recreation, resource and regulation information.
LakeFinder

DNR, MDH, PCA and U of M - WRRC and Remote Sensing Laboratory

Statewide
Various
Various
Web Application
LakeFinder accesses geographic and attribute information on more than 4,500 lakes and rivers searchable by lake and/or county. Information includes basic lake characteristics, fish population and consumption advice, lake depth, lake levels, water quality and clarity, and invasive species infestation.
Lake (depth) Mapping in Minnesota

DNR Ecological Resources

Statewide
N/A
8/24/1999
Text
Lake mapping provides a visual representation of the shape and depth of Minnesota lakes, as well as important information about the lake ecosystem.
Hydrography Basin Standard

Gov. Council

Statewide
N/A
Current
Text
This standard is for designating identification codes for state lakes and wetlands in GIS and other data applications.
DNR = Minnesota Department of Natural Resources
Gov. Council = Minnesota Governor's Council on Geographic Information
MDH = Minnesota Department of Health
NOAA = National Oceanic and Atmospheric Administration
NRRI = Natural Resources Research Institute
NTDB = National Topographic Data Base of Canada
PCA = Minnesota Pollution Control Agency
U of M = University of Minnesota, Twin Cities Campus
USGS = United States Geological Survey
WRRC = Water Resources Research Center (University of Minnesota)