Rivers and Streams Data for Minnesota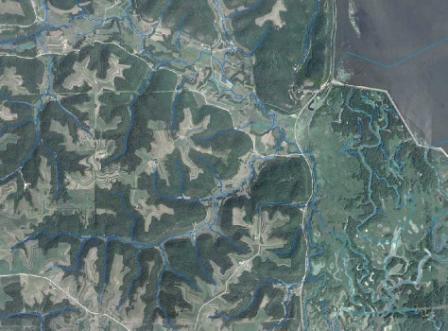 In addition to its lakes, Minnesota's 92,000 miles of rivers and streams are a very important resource. This page references GIS datasets such as the National Hydrography Dataset, and DNR Hydrography streams base layer and derived layers, and the FEMA Floodways database. Links are provided to the DNR/PCA Cooperative Stream Gaging Program, USGS real-time river gage data, and PCA stream water quality assessments.

Categories
Hydrography: GIS and mapping data of rivers and streams, also including stream gage and floodway information
Quality: Both GIS and non-GIS data concerned with river and stream water quality
General: Miscellaneous river and stream data
Hydrography/Bathymetry
Name
Source*
Geographic Area
Scale
Time Period
Data Type
Description
National Hydrography Dataset
USGS
Nationwide
1:24,000
Current
Vector GIS

The National Hydrography Dataset (NHD) is a national framework database of digital surface water features that are combined into "reaches" and a reach addressing system that provides a way to link water-related data to the surface drainage network. These links also enable the display and analysis of water data in upstream and downstream order.

MnDNR Hydrography: Streams

DNR

Statewide
1:24,000+
Current
Vector GIS
Within the MnDNR Hydrography database, the 1D Stream Routes feature class is the base layer for many derived layers, including: Stream Confluences and Flow Direction, Stream Routes with Stream Types, and Stream Routes with Kittle Numbers and Mile Measures. The Kittle Routes layer contains stream names. For 2D river features, see DNR Hydrography: Lakes and Open Water.
Minnesota Trout Streams
DNR Fisheries
Statewide
1:24,000+
2013
Vector GIS

This layer shows legally designated trout streams and trout stream tributaries as identified in Minnesota Rules Chapter 6264.

FEMA Flood Map Modernization

FEMA

In progress
1:24,000
Current
Vector GIS
A DFIRM is the official digital map of a community on which FEMA has delineated the special flood hazard areas, i.e., the floodplain areas where flood insurance is required for loans and where communities will administer floodplain regulations. Layers include: Base Flood Elevations, Flood Hazard Zones, and Cross Sections. As part of a national 5-year map modernization effort, FEMA floodplain maps are being updated. If available, newer flood elevation data are being used, and newer elevation data (topography) are being used to draw the boundaries of the floodplain.

Statewide Altered Watercourse Project

MPCA, MnGeo

Complete
1:24,000
Current
Vector GIS
Stream channel modification (i.e., straightening of stream channels, removal of oxbows and dredging) is a significant source of habitat destruction in many freshwater ecosystems. MPCA needed a more accurate quantification of the extent of altered stream miles throughout the state to support its water quality assessment program. MPCA and MnGeo developed a methodology to categorize streams as 'natural', 'altered', or 'impounded'. This categorization is applied to all Minnesota streams in the National Hydrography Dataset and is updated periodically (see dataset documentation for details).
Buffer Protection Map
DNR
Statewide
Various
Current
Vector GIS, Web Application

These data represent public waters and public ditches that require permanent vegetation buffers or alternative riparian water quality practices. The map helps landowners identify buffer protection requirements, under Minnesota's Buffer Law.

DNR/PCA Cooperative Stream Gaging website
DNR, PCA
Statewide
Various
Current
Web Application

This website provides access to (provisionally) current and historical stream level and quantity data from gage sites maintained through the DNR/PCA Cooperative Stream gaging network.

USGS Real Time Water Data for Minnesota

USGS

Statewide
Various
Current
Web Application, Table
Website contains web map application of Daily Streamflow Conditions at USGS gages throughout Minnesota as well as links to streamflow, precipitation and ground-water tables.

USGS

North America
1:2,000,000
Various
Vector GIS, Maps
Generalized water data such as 'Streams and Waterbodies'.

USGS

Upper Mississippi River
Various
Various
Raster and Vector GIS, Maps
The Long Term Resource Monitoring Program at the Upper Midwest Environmental Sciences Center has overseen the collection, processing, and serving of bathymetric data since 1989.
Quality
Name
Source*
Geographic Area
Scale
Time Period
Data Type
Description
Streams and Rivers

PCA

Statewide
Various
Current
Text
This page provides links to various PCA stream water quality programs and data.
305b Assessments of Stream Conditions
2012 Assessed Streams GIS data

PCA

Statewide
Various
2012
Text, PDF, Web Application, Vector GIS
Section 305b of the U.S. Clean Water Act requires states to estimate how well they meet the goals of the Clean Water Act as well as their own water quality standards and to share this information with people involved with watershed management. This webpage contains links to stream water quality assessment reports and interactive maps.
Environmental Info Management Systems

Metropolitan Council

Twin Cities metro
Various
Current
Spreadsheet and JSON
View and download water quality data on lakes, rivers, streams and rain gauges for the region.
How's My Waterway?

EPA

Nationwide
Various
Current
Web Application
Learn the condition of local streams, lakes and other waters quickly and in plain language using a smart phone, tablet or desktop computer. See if local waterways were checked for pollution, what was found, and what is being done. Information source: State water quality monitoring reports.
General
Name
Source*
Geographic Area
Scale
Time Period
Data Type
Description
General Rivers and Streams Information

DNR

Statewide
N/A
Current
Text
The main DNR webpage that contains links to river and stream facts, FAQs, recreation, stewardship, and studies information.
Reach/Watercourse Standard
MnGeo Hydrography Committee
Statewide
N/A
2006
Text

This standard has been developed to improve the sharing and exchange of information regarding river reaches and watercourses. It designates the reach and watercourse codes to be used for Minnesota rivers, streams, and ditches in GIS and other data applications.
DNR = Minnesota Department of Natural Resources
EPA = United States Environmental Protection Agency
FEMA = Federal Emergency Management Agency
PCA = Minnesota Pollution Control Agency
USGS = United States Geological Survey