LiDAR Elevation Data for Minnesota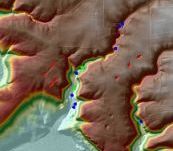 LiDAR ("Light Detection and Ranging") is an active remote sensing technology that uses laser light to detect and measure surface features on the earth. LiDAR-derived high-resolution elevation data products are available for all of Minnesota.
---
Featured
Hydrographic Position Index Technical Report: Combining LiDAR-derived DEM analysis, raster classification and color symbology for pseudo-3D terrain visualization to enhance hydrography interpretation on the DEM landscape

Minnesota Solar Suitability Analysis project, which used Minnesota's statewide LiDAR data, wins Esri Climate Resilience App Challenge award
MnTOPO: A web application for viewing, printing and downloading high-resolution elevation data for Minnesota collected using LiDAR technology

View terrain data and contour lines, choose from several basemaps, view flight lines and metadata
Create, save and print a map
Find the elevation of a point and draw elevation profiles
Download LiDAR data by drawing a polygon around your area of interest

Select only the layers you need
Choose from several formats
Tiles in most formats will be mosaicked for the download

Tip sheet: If you get a loading error with MnTOPO, it's likely caused by a "Compatibility View" setting in Internet Explorer browser v11 which is easily fixed.

---
Data Download
Folder names and organization have been changing, so some of the paths given in the readme files need updating. The readmes will be updated once the names and organization stabilize - please let us know ( gisinfo.mngeo@state.mn.us ) if you are having trouble finding anything.
Contents and filesizes of LiDAR Geodatabases:

This table summarizes the derived products found in each county geodatabase since not all counties are identical (e.g., not all counties have a building footprint layer)
Filesizes for the county geodatabases are included since the filesizes do not display on the FTP site.

If you haven't used this site or LiDAR data before, see the help files.
Download problems:

Many of the data files are huge and should be downloaded with an FTP client rather than a browser. FileZilla works well.
No username or password is needed to download from MnGeo's FTP site. For unknown reasons, sometimes the Internet Explorer (IE) browser may prompt you for a user name and password. If this happens, try using another browser such as Firefox or Chrome, or possibly a different version of IE.

Unzipping problems: Some older unzip programs cannot handle the extended zip format which is used to compress these very large files. They vastly overestimate the filespace needed to unzip the files. We recommend using 7-zip on Windows and the standard zip/unzip programs on other operating systems.
Flight lines and dates of acquisition (where available):
Problem with some LAS files in Stearns, Sherburne and Hennepin counties, near Wright Co. border

The following files are missing some data (see graphic with missing areas outlined in red): 3542-22-07, 3526-22-59, 3542-25-16, 3526-19-62, 3542-26-14, 5158-08-11, 3542-20-03, 3526-22-60, 3526-22-57, 3526-19-64, 3542-21-05, 3542-20-02, 3542-26-13, 3542-24-16, 3542-19-01, 3542-28-12, 3542-28-11, 3526-19-63, 3542-30-09, 3526-22-56, 3526-22-58, 3526-21-61. If they can be fixed, replacements will be published.
Help
Introductory documentation for the FTP site and the data; the main ones are listed below:
readme_first.rtf: Description of how the files on the FTP site are organized and what is in each folder.
raw_LiDAR_Data_README.rtf: Description of the tiled LiDAR point cloud information (LAS format) and the tiled file geodatabases storing derived information.
county_mosaic_readme_first.rtf: Description of the files in the county mosaics and tips for using them.
watchme_first.swf: Video (Flash format) describing the FTP site and tips to get started.
LAS_File_Processing_Using_LASTOOLS: How to work with LAS/LAZ data format and how to export to a neutral format that can be imported into other software such as AutoCAD.
ArcGIS 10.1 Toolbox (MnDNR)
Streamlines downloading and merging LiDAR data associated with a polygon of interest from within ArcGIS software
Requires ArcGIS 10.1 Service Pack 1 or above.
Hillshade layer (LiDAR-derived, black-and-white image) on MnGeo's WMS image service. Documentation
---
Areas Covered:
---
Education and Training
2019 LiDAR Training (basic and advanced)

Metro: Minneapolis, April 8 and 9
Greater Minnesota

Morris: March 18-19
Northfield: March 25-26
Winona: May 13-14
Marshall: May 20-21

Training Modules, Webinars and Tools


Conservation Applications of LiDAR (University of Minnesota)
Six training modules on conservation applications of LiDAR. Each module was taught as a half- or full-day workshop at locations around Minnesota.

Webinars:

Using LiDAR data to Advance Local Conservation Work: An overview for managing administrators and non-technical staff, Tim Loesch, MN Dept. of Natural Resources, recorded June 12, 2013
Using LiDAR-based Terrain Analysis Products, recorded May 22, 2013


Hydrology and Terrain Analysis Tools for Using LiDAR Data (NRCS)
Free python-based ArcGIS tools

Webinars

Hydrology and Terrain Analysis Tools, introduction to the tools, recorded February 6, 2013
LiDAR-Based Design of Water and Sediment Control Basins: March 19, 2013 (only the introductory slides are online since the original webinar had technical problems)

Download the tools: as one zip file (updated: v. 1.1.14, 1/26/18)


2013 Mn GIS/LIS Conference LiDAR Presentations
LiDAR and DEM Tips and Tricks (9 MB, PPT)
Tim Loesch, MnDNR, 2011
Tips to help effectively display LiDAR and DEM data.

Accessing and Using Minnesota LiDAR Data Packets (2.4 gigabytes, zipfile)
Tim Loesch and Shelly Sentyrz, MnDNR, 10/5/11
Powerpoint slides, exercise materials and data from a GIS/LIS Consortium workshop.
Digital Terrain Analysis with LiDAR for Clean Water Implementation, May 11, 2010, Joel Nelson, University of Minnesota, and Barbara Weisman, Minnesota Department of Agriculture. Workshop slides.

Esri Training: Search on "Lidar" in Esri's Training Catalog

The LiDAR Research and Education Subcommittee of the Minnesota Digital Elevation Committee worked to design and promote best practices with LiDAR data, LiDAR-derived products and LiDAR training statewide.

---
Programs
Minnesota Elevation Mapping Project
A State of Minnesota Legacy Amendment project to complete LiDAR coverage of the state.

3DEP
The primary goal of 3DEP is to systematically collect enhanced elevation data over the United States and the U.S. territories.
Red River Basin Mapping Initiative
The goal of the Red River Basin Mapping Initiative was to develop a high resolution DEM for the Red River of the North Basin south of the U.S./Canada border using LiDAR.

---
Uses of LiDAR in Minnesota
Examples illustrating how LiDAR data is already being used in Minnesota:
---