Minnesota Elevation Mapping Project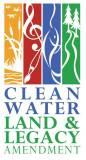 The goal of this project was to develop and deliver a seamless high-accuracy digital elevation map of the State of Minnesota, based on data collected using LiDAR technology. Accurate topographic information will greatly enhance the ability of decision makers and resource managers to understand how water interacts with the landscape and will provide the foundation for developing innovative, effective, and defendable resource management strategies. The project will facilitate the flow of data between all levels of government: local, state, and federal.
In July 2009, the Minnesota Legislature appropriated $8.3 million ($2.8 million each in fiscal years 2010 and 2011; $1.35 million each in fiscal years 2012 and 2013) from the Clean Water Fund of the Clean Water, Land and Legacy Amendment to help realize the goal of creating a seamless elevation model for Minnesota by filling in the areas where data either did not exist or was deemed to be old enough to be replaced. The project was coordinated by MnGeo's Digital Elevation Committee.
On October 2, 2014, the project received a Governor's Geospatial Commendation Award.

Data Availability | Project Schedule | Product Deliverables | Vertical Accuracy | Master Contract | Partnerships | Articles/Meeting Materials | Steering Team | Questions/Feedback

---
Data Availability
---
Project Schedule
Project Area Map The total project area, encompassing 45,349 square miles across 47 counties, was split into five phases as shown on this map.
Flight lines and dates of acquisition for the project: KMZ file for Google Earth and shapefile

Phase 1 - Minnesota River Basin, Minnesota Portion, Spring and Fall 2010
The area included 17,260 square miles in 25 counties in southwestern Minnesota including Brown, Chippewa, Cottonwood, Douglas, Faribault, Jackson, Kandiyohi, Lac qui Parle, Le Sueur, Lincoln, Lyon, Martin, Murray, Nicollet, Nobles, Pipestone, Pope, Redwood, Renville, Rock, Sibley, Swift, Waseca, Watonwan and Yellow Medicine.
80% of the project area was flown April 8th – May 5th, 2010; the remainder of the project area was completed in November 2010.
Phase 2 - Minnesota River Basin, South Dakota Portion, Fall 2010
The U.S. Geological Survey contributed funding for this phase - see graphic.
Phase 3 - Arrowhead Region, Spring 2011
Covers 4 counties: Carlton, Cook, Lake and St. Louis, part of Itasca County and Voyageurs National Park in Koochiching County. Two pilot project areas – one encompassing Vermillion State Park and one capturing the west portion of Duluth – were also collected.
Map showing block boundaries
Phase 4 - Twin Cities Metro Area in Central Minnesota, Spring and Fall 2011
Covered 15 counties: Anoka, Benton, Carver, Dakota, Goodhue, Hennepin, Isanti, Kanabec, Meeker, Mille Lacs, Morrison, Ramsey, Scott, Sherburne and Washington.
Map showing block boundaries
Phase 5 - Central Lakes Region, Spring 2012
Covered 6 complete counties in north-central Minnesota: Aitkin, Cass, Hubbard, Itasca, Todd and Wadena, along with a portion of Koochiching County.
Map showing block boundaries.

---
Product Deliverables
The Digital Elevation Committee defined the products to be delivered and the data collection, processing and accuracy standards to be followed.
The standards were based on the USGS Base LiDAR Specification and included:
Mean Post Spacing = 1.5 meters (first return)
<=15 centimeter RMSEz, 2-foot vertical accuracy (95% confidence)
1 meter horizontal accuracy
Tiling scheme is 1:24,000 quarter-quarter quads (1/16 quad) – an area of 3.25 square miles
Products to be delivered included:
Classified LAS format files

Bare Earth
Vegetation
Buildings
Water

Edge-of-water breaklines for ponds and rivers
One-meter raster DEM, hydro-flattened using breaklines
2-foot contours (to be created by project team)
Building footprint polygons: A process to create rough building footprint polygons from the points in the LAS data that are classified as buildings (LAS Code 6) has been developed.
Coordinate system:
UTM Zone 15, NAD83 horizontal datum, NAVD88 vertical datum
Vertical units in meters

---
Vertical Accuracy of Delivered Data
Consolidated Vertical Accuracy (CVA) Map, December 2012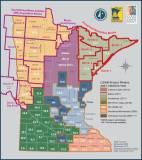 This map shows the Root Mean Square Error (RMSE) by county or acquisition data block, as well as the acquisition year for each project area.
Consolidated Vertical Accuracy is the RMSE of all the test data -- more than 100 validation points per county -- in all five major cover types: Urban, Open, Brush, Forested and Tall Grass. (In contrast, Fundamental Vertical Accuracy is just the test data in the Open Terrain category.)
The State of Minnesota LiDAR dataset was not all collected at one time or under one project. Although LiDAR data had been collected prior to 2007, it was felt that those datasets that were acquired following the USGS LiDAR Guidelines and Base Specifications would determine if an existing dataset would be part of the statewide dataset.
The Minnesota DNR was the lead agency for this project but we must acknowledge the contributions of the International Water Institute, Fargo, ND and the various Minnesota counties who negotiated the release of their data for this public purpose. See Partnerships section below for more info.

---
Project Master Contract
The State of Minnesota created a Master Contract for LiDAR Services that was in effect for three years, expiring July 1, 2012 (except for the work in progress). The contract provided a way to pre-qualify LiDAR vendors and then have them on a retainer for future work orders. The Master Contract was also available for other units of government to utilize for special projects. The Master Contract vendors were:
Aero-Metric Inc.
Fugro/Horizons
Sanborn
Woolpert
---
Partnerships
The project team received valuable in-kind assistance from local units of government, primarily county surveyor staff, to collect high accuracy survey points that were used by the project team to validate the data. These points were crucial to ensure that the data delivered by the vendor met the accuracy requirements agreed upon in the work order contracts. A structured process for collecting validation points ensured that they were comparable across the region.
Validation point status

Arrowhead region complete
Metro region complete
Central Lakes region complete
---
Articles and Meeting Materials
Articles
Meeting Materials
January 13, 2010: St. Paul
September 24, 2009: Willmar, Marshall, Worthington, Mankato
---
Steering Team
Project Manager, Tim Loesch – Minnesota Department of Natural Resources
Chris Cialek – Minnesota Geospatial Information Office, coordination and technical reviewer
Les Everett – University of Minnesota, Center for Water Resources, project advisor
Pete Jenkins – Minnesota Department of Transportation, survey and validation coordinator
Shelly Sentyrz – Minnesota Department of Natural Resources, LiDAR and elevation technical resource
Ron Wencl – USGS MN Spatial Data Liaison, coordination and technical reviewer

---
Questions and Feedback
For more information on the project, please contact MnGeo at: gisinfo.mngeo@state.mn.us

---
Return to Digital Elevation Committee page