Original Public Land Survey Field Notes of Minnesota
The field notes are now on-line at the U.S. Bureau of Land Management's (BLM) GLO web site!
Work yet to be completed by BLM:
Incorporating Minnesota's high-resolution (600 dpi) GLO plats into the site. The plats which currently appear on the site are BLM's duplicates which may differ from the originals scanned in Minnesota in 2004. For now, download the GLO plats, including geo-referenced versions, via MnGeo's GLO Plats website.
Modifying BLM's land records database to accommodate multiple survey records per GLO plat. In those instances when multiple records exist for a plat, there currently are no links to a map (BLM's or Minnesota's).
BLM has not yet set a date for completing these final steps. Comments are welcome. For the BLM site, direct them to Daniel Fleming. For the MnGeo site, contact Norman Anderson.

---
Overview
The Minnesota Historical Society awarded a Minnesota Historical and Cultural Heritage grant to MnGeo to scan, index, and publish Minnesota's General Land Office (GLO) Field Notes online, thereby greatly increasing their accessibility. The field notes were created for the federal government between 1847 and 1911, prior to opening Minnesota to land sale and to European settlement.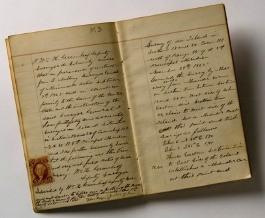 MnGeo worked in partnership with the Minnesota Historical Society, Office of the Secretary of State, Minnesota Department of Transportation, Minnesota Association of County Surveyors and the U.S. Bureau of Land Management to digitize and index these exceptional documents and publish them online. The scanning and indexing parts of the project were completed by the June 30, 2011 deadline.
Contained in 1410 volumes totaling nearly 310,000 pages, the notes serve as the legal foundation for all land ownership in the state. All property titles in Minnesota ultimately rest on these descriptions. They are also uniquely valuable for historical, environmental, genealogical and legal purposes and are the only comprehensive representation of Minnesota's landscape prior to development. However, access to the actual notes has posed challenges due to their unique nature and fragile condition. This project will ensure that the public will have full access to them for generations to come.
Minnesota Historical and Cultural Heritage grants are made possible by the Minnesota Legislature from the Arts and Cultural Heritage Fund created with passage of the Clean Water, Land and Legacy Amendment to the Minnesota Constitution in November 2008. The grants are awarded to support projects of enduring value for the cause of history and historic preservation across the state.

---
Project Details
Field notes on BLM's website: Final work needed to incorporate high-resolution GLO plats into the site and to link multiple survey records to a single GLO plat.
Scanning and indexing complete: On June 30, 2011, the scanning and indexing of nearly 310,000 pages of notes and supplemental documents was completed. The indexing process ties the notes to the high-resolution GLO plat images that MnGeo created in 2004 and sent to BLM in Fall 2010. MnGeo also delivered copies of the field notes images – approximately 23 terabytes – to the Minnesota Historical Society and to BLM.
Supplemental surveys: Additional grant funding expanded the scope of this project to include island, tribal land, railroad, and transportation supplemental surveys.
Scanning contract awarded: Perfect Image was awarded the contract to scan the field notes. They worked onsite at the Minnesota Historical Society to scan the documents, and began at the end of November 2010. Since the documents are rare, old, fragile, and bound, a planetary scanner and hand-turning pages and frequent adjustments were necessary.
Metadata record documentation

---
Contact Information
If you need paper copies of the field notes, please contact the Minnesota Historical Society:
Minnesota Historical Society Library
345 Kellogg Blvd. West
St. Paul, MN 55102
Phone: 651-259-3300
Fax: 651-297-7436
http://sites.mnhs.org/library/content/contact-us
Library hours: http://libguides.mnhs.org/lib101