Aerial Photography of Minnesota - USDA, pre-2001
Several agencies within the U.S. Department of Agriculture have photographed portions of Minnesota since the mid-1930s.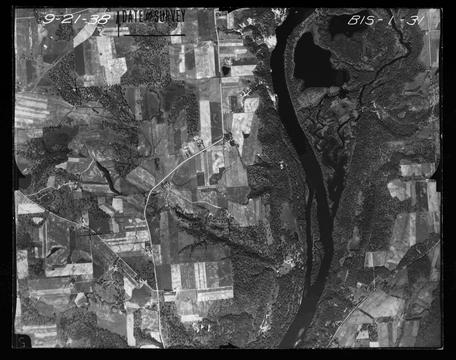 1938-39 USDA photos online: View or download 1938-39 USDA photos from the Minnesota Department of Natural Resources' LandView website. DNR has scanned the hardcopy photos as gray-scale images; each photo covers about ten square miles. Note that the photos are not georeferenced. The project is ongoing -- to see a status map of which areas are covered, go to the LandView site, choose "Historic Photo Centers" as the foreground layer and then click "redraw map." To retrieve a photo, click on the information button (an "i" with an arrow) and then on a colored dot showing a photo center location (the legend shows which color corresponds to 1930s photos).

Image to the right is a 1938 USDA aerial photograph taken along the St. Croix River in Chisago County. Scanned photo courtesy of the Minnesota Department of Natural Resources. Click on the image to enlarge.


1955 through the present at the Aerial Photography Field Office: The APFO describes itself as the largest source of historical and current imagery of the conterminous United States. It houses photographic imagery secured for the Forest Service and Natural Resources Conservation Service in addition to the Farm Service Agency. It also houses copies of NAPP photography, produced jointly with the U.S. Geological Survey.

The scale of APFO photography varies from 1:6,000 to 1:80,000; all film products are available in black-and-white. In addition, natural color and color infrared products are available for some areas. Their catalog lists photographic coverage by state and by county. After determining the vintage and film type of photos available for a county, contact APFO for individual photo numbers and see their website for ordering information and payment options.

Sales Branch, USDA FSA APFO
2222 West 2300 South
Salt Lake City, UT 84119-2020
apfo.sales@slc.usda.gov
www.apfo.usda.gov
(801) 975-3503


Mid-1930s to 1955 USDA photos are also available from the National Archive.
Other Minnesota Photos