Educational Information for Minnesota Geology
This page covers descriptive information about Minnesota geology and standards for geologic mapping.
---
State
Educational Materials from the Minnesota Geological Survey


Minnesota At-a-Glance series
Descriptions of various aspects of Minnesota's geology, usually 4-6 pages, in PDF format.


Quaternary Glacial Geology
Mapping Subsurface Sedimentary Rocks
Fossil Collecting in the Twin Cities area
Caves in Minnesota
Precambrian Geology
Earthquakes in Minnesota
Geologic Time
Ancient tropical seas—Paleozoic history of Southeastern Minnesota
Common Minnesota Rocks


Geology of Minnesota: A Guide for Teachers (38 p., 7 MB, PDF)
This book provides current understanding of the geology of Minnesota to Earth Science teachers and others who have some background in geology. It is a collective effort with the Land and Minerals Division of the Minnesota Department of Natural Resources.

The Virtual Egg Carton
Major rock types of Minnesota.

Current Publications
Detailed list of all Minnesota Geological Survey publications (with maps and links).


Educational Resources from the Division of Lands and Minerals
Numerous handbooks, factsheets, and workshop materials covering Minnesota's minerals, reclamation of sand and gravel pits and minelands, ownership and legal issues, and recreational geology.

Minnesota Geology
Minnesota Geological Survey links to various geologic topics of Minnesota.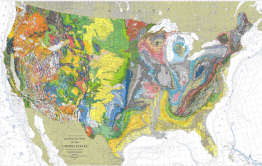 ---
National
U. S. Geological Survey Geology Research and Information
Provides information and links to fundamental geochemical and geophysical data around the world such as geologic hazards and disasters, climate variability and change, energy and mineral resources, ecosystem and human health, and ground-water availability.

Association of American State Geologists
The Association represents the State Geologists of the United States and Puerto Rico and provides fact sheets as well as links to geological surveys in other states.

---
Regional
---
Geologic Mapping Standards