Statewide Geology Data for Minnesota
Most of the geologic GIS information described on this webpage is statewide in scope and is generally 1:500,000 to 1:1,000,000 in scale.
---
Bedrock and Quaternary Geology and Hydrogeology
Minnesota Geological Survey
These maps comprise the MGS "State Map" series; scales are 1:500,000 to 1:1 million.
Bedrock Geology
Bedrock Hydrogeology
Depth to Bedrock including areas of significant bedrock outcrops
Quaternary Geology: Distribution of surficial sediments
Quaternary Hydrogeology: Geologic classification of the hydrogeologic, or water-bearing, units for the Quaternary (surficial, unconsolidated) deposits.
U.S. Geological Survey
Minnesota Geologic Map Data
Geologic units and structural features in Minnesota provided as a GIS database, interactive map, and web mapping service.

---
Additional Maps: Current and Historic
Created by the Minnesota Geological Survey.
Geology of Minnesota
Maps and cross-sections showing different aspects of Minnesota geological features.

Minnesota Digital Library: Minnesota Reflections
Scanned images of historical geologic maps (592 images, alphabetized by title). Includes MGS aggregate resources maps, the State Map Series, County Geologic Atlas and Regional Hydrogeologic Assessments (including graphics of all map plates for these series), bedrock geology and other geology maps for various smaller study areas (down to the quad), and a few historic maps.

Preliminary Geologic Map of Minnesota 1872 by N.H. Winchell (4 MB, PDF)

---
Mineral / Industrial Mining
Information provided by the Lands and Minerals Division of the Minnesota Department of Natural Resources.
Public Access to Minerals Data
Index of 100 years of Minnesota non-ferrous mineral information (PDF format), including reports, maps, drilling logs, etc., searchable by map or attributes.
Mineral Exploration in Minnesota
A table details the location, company, drilling footages and other information pertaining to metallic mineral exploration drilling; the map shows areas of drilling activity and leases.
Mineral Industries of Minnesota
Generalized map of current metallic and industrial mining operations.

---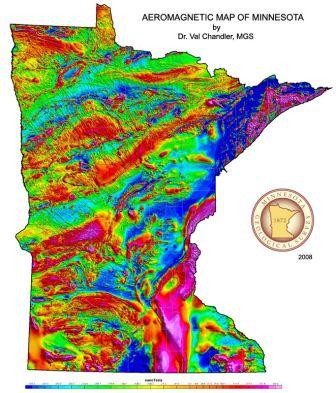 Aeromagnetic
Aeromagnetic data records the total magnetic intensity anomaly relative to the earth's magnetic field, indicating the distribution and concentration of magnetic minerals (primarily iron-bearing) within the upper crust of the earth. Maps, documentation, and GIS data.