Topographic Maps for Minnesota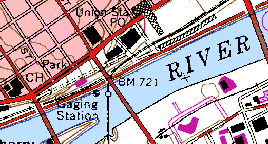 The U.S. Geological Survey produces several nationwide series of topographic maps at different scales: 1:24,000; 1:100,000; and 1:250,000-scale. The most detailed national map coverage is the 1:24,000-scale topographic quadrangle series. These maps show many features in addition to the brown elevation lines that show topography.
Scanned (digital) topographic maps are called "Digital Raster Graphics" or DRGs. One version of DRGs are individual files that include the outside or "collar" information; "collarless" versions clip off the outside information in order to create seamless files.
---
About Topo Maps
General Info

USGS Topographic Maps (USGS)
This website gives an introduction to the history of USGS topographic mapping from 1879 to the present as well as general information about topographic mapping, maps of the USGS, Digital Raster Graphics (DRGs), topographic map revision, symbols, and mapping standards.

Minnesota Info

Original maps: Minnesota had completed once-over 1:24,000-scale coverage in the early 1980s.
Updated maps: Between 1991 and 1996, a cooperative program with the USGS produced 138 revised 1:24,000 topographic maps for the Twin Cities, Duluth, St. Cloud, Moorhead, Mankato, Rochester, Red Wing, Winona, a few other cities, the growing suburban area of the Twin Cities-St. Cloud corridor and the Brainerd lakes area. See map.

"US Topo" Maps

Historical Topo Maps

The USGS Historical Quadrangle Scanning Project is scanning and georeferencing all scales and editions of topographic maps published by the USGS since the inception of the topographic mapping program in 1884. The maps will be available for online viewing and download.
---
View or Download DRGs
DRGs are seamless (without outside collar information) unless specified

WMS Service

View and download

U.S. Topo
View and download topo maps with collar information in GeoPDF format; the download files are free

Download

View Online

NorthStar Mapper (MnGeo)
View DRGs for Minnesota

Tons of Maps Online (DNR)
Search and pan DRGs of Minnesota at three basic scales (1:24,000, 1:100,000 and 1:250,000) and formats (small, medium and large).
---
Printed Maps
USGS Store

Find and order topographic maps
Order free paper index of topo maps (search for product "68445")
Download Excel spreadsheet list of Minnesota's topo maps (navigate to the page by selecting: Products | Maps | 7.5 Minute Maps | Minnesota)
State Topographic Map Lists
Get a list either by choosing a state and scale, or by defining a box by latitude/longitude


Minnesota Geological Survey: Purchase topo maps; free map index over the counter at MGS's St. Paul location.

Other private retail outlets, especially outdoor and map stores
---
Quadrangle Codes for Minnesota
MnGeo's FTP site
Database and text files that relate various coding systems used by LMIC, DNR, MGS, and USGS. See README.TXT file for details.
---
Information Source Abbreviations:
DNR: Minnesota Department of Natural Resources
FEMA: Federal Emergency Management Agency
LMIC: Land Management Information Center
MnGeo: Minnesota Geospatial Information Office (formerly LMIC)
USDA: United States Department of Agriculture
USGS: United States Geological Survey