Spring Aerial Imagery of East-Central Minnesota: April 2010
Eleven of thirteen East-Central Minnesota counties were flown Spring 2010 for high-resolution 4-band digital imagery from which stereo and ortho-rectified data products will be produced.

Surdex Corporation began flying on April 7. Due to early spring weather, flights were curtailed after April 18. All areas postponed from 2010 were acquired Spring 2011: Goodhue and Rice counties; downtown St. Paul (reflown to minimize building lean); and stereo imagery at 0.5-meter resolution for Dakota, Goodhue, Rice and Scott counties.
---
View Imagery
The 2010 imagery is available via MnGeo's WMS service.

---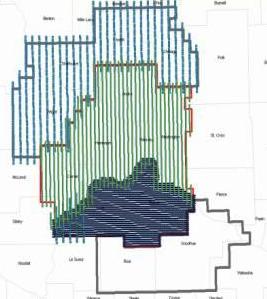 Data Resolution
Wright, Sherburne, Isanti and Chisago counties were collected at 20-inch resolution, the nominal resolution specified by the DNR and Met Council.
Anoka, Carver, Hennepin, Ramsey and Washington counties were collected at 1-foot resolution thanks to a grant from the NGA, which requires that resolution to support its 133 Urban Areas Program.
Dakota and Scott counties took advantage of this regional data collection opportunity to buy up to a 6-inch resolution.
Rice and Goodhue counties, which were scheduled for 20-inch resolution coverage, were not collected so were flown in Spring 2011. Rice County bought-up to 1-foot resolution.
The state also exercised an unsolicited option proposed by the vendor for increased horizontal accuracy.

---
Credits
The project is being funded by the Minnesota Department of Natural Resources, the Metropolitan Council, the National Geospatial-Intelligence Agency (NGA) and the Metropolitan Mosquito Control District. MnGeo is managing federal and vendor contracts and interagency agreements.

---
Project Contacts
---
Return to MnGeo's first-stop Aerial Photography page